Surging Need for First and Last-Mile Connectivity Powering Micromobility Telematics Demand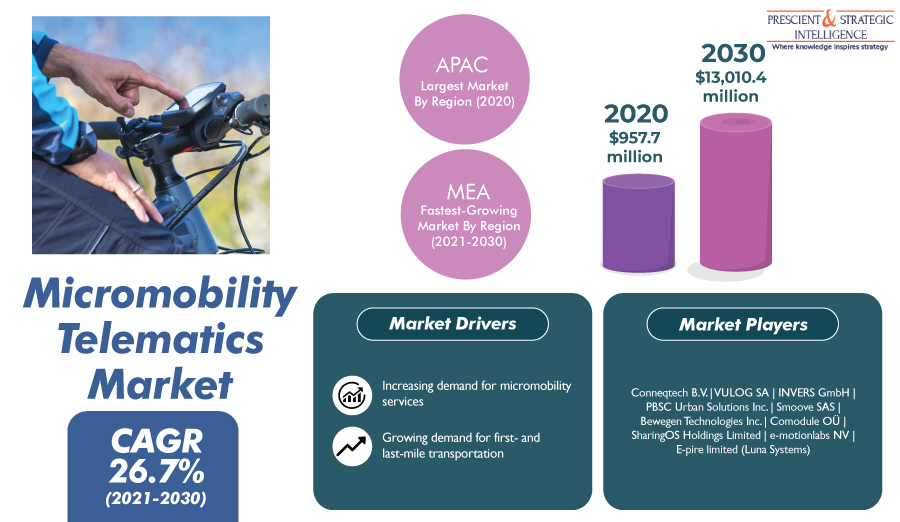 The global micromobility telematics market is projected to reach $13,010.4 million by 2030 by P&S Intelligence.
The burgeoning requirement for first- and last-mile transportation is fueling the demand for micromobility telematics solutions across the world. This is because these solutions offer mobility options for short distance commuting, which, in turn, plays a crucial role in bridging the existing gap in first- and last-mile transportation. These services are generally offered via the station-less or dock-less model, that allows users to simply drop off the vehicle anywhere as per their convenience.
Moreover, these services are generally availed for traveling a distance of less than 3.1 miles or 5 km per trip. Many top investors are investing heavily in the micromobility industry, thereby opening up revenue streams for various telematics solutions providing companies. For example, many start-up companies and key players operating in the kick scooter sharing industry are receiving huge investments from various venture capitalists. Kick-scooter sharing services were launched in 2017, and in less than two years, more than $2.2 billion investments have been made in start-ups.
Download report sample at: https://www.psmarketresearch.com/market-analysis/micromobility-telematics-market/report-sample
For example, European investors— Atomico and Index Ventures— massively funded two leading electric kick scooter sharing service providers in the U.S. namely Neutron Holdings Inc. (Lime) and Bird Rides Inc., respectively, in 2018. Index Ventures led Bird Rides' Series B round with an investment worth $100 million. Besides these factors, the growing requirement for micromobility sharing services is also driving the demand for micromobility telematics solutions all over the world.
This is, in turn, fueling the expansion of the global market for micromobility telematics. According to the market research company, P&S Intelligence, the market revenue stood at $957.7 million in 2020, and it is predicted to rise to $13,010.4 million by 2030. Furthermore, the market is predicted to progress at a CAGR of 26.7% between 2021 and 2030. Depending on sharing type, these solutions are classified into station-based, dock-less, and hybrid.
Geographically, the popularity of micromobility telematics solutions was observed to be the highest in the Asia-Pacific (APAC) region during the last few years. This was because of the emergence of several technology start-ups and the hefty investments received by many regional micromobility telematics firms in the region. Furthermore, many industry players focused heavily on providing affordable micromobility services in order to gain an edge over their rivals, thereby contributing toward the industry boom in the region.
Pre-Purchase Inquiry at: https://www.psmarketresearch.com/send-enquiry?enquiry-url=micromobility-telematics-market
Some of the major players operating in the global micromobility telematics market are Conneqtech B.V., VULOG SA, INVERS GmbH, PBSC Urban Solutions Inc., Bewegen Technologies Inc., Smoove SAS, SharingOS Holdings Limited, Comodule OÜ, e-motionlabs NV, and E-pire Llimited.
Market Size Breakdown by Segments
By Service Type
Bike Sharing
Kick Scooter Sharing
Scooter/Motorcycle Sharing
By Offering
Global Positioning System
Fleet Optimization
Software
By Technology
Embedded
Tethered
Integrated
By Sharing Type
Dock-Less
Station-Based
Hybrid
Geographical Analysis
North America
Europe

Spain
France
Germany
Italy
U.K.

Asia-Pacific

China
Taiwan
India
Singapore

Latin America
Middle East and Africa
Browse Other Related Reports
Automotive Telematics Market
A key trend currently being observed in the automotive telematics market is the ballooning number of partnerships and collaborations amongst the various telematics systems providing companies, solutions providers, and original equipment manufacturers (OEMs) all around the world.
Automotive OTA Updates Market
The major factor fueling the advancement of the automotive OTA updates market is the increasing implementation of stringent vehicle safety regulations in several countries, because of the rising incidence of road accidents.
Media Contact
Company Name: P&S Intelligence
Contact Person: Abhishek
Email: Send Email
Phone: +918887787886
Address:Noida Sector 2
City: Noida
State: UP
Country: India
Website: https://www.psmarketresearch.com/market-analysis/micromobility-telematics-market