Smart Biz Company One Adds Patented SBC1 KF-94 Mask to Its Inventory
October 15, 2021 – Smart Biz Company One (SBC1), today announced the launch of its patented SBC1 KF-94 Mask that emphasizes increased comfort and filtration through a blend of high-quality material. The mask protects users against not only yellow and fine dust but also viruses.
Originating from the deserts of Northern China and Mongolia, yellow dust is whisked into the atmosphere and carried to the Korean Peninsula through a strong wind. Apart from reduced visibility, the dust arrives bringing along pollutants like bacteria, viruses, fungi, and other industrial pollutants that are not good for respiratory health.
When yellow dust reaches an unhealthy concentration, which is around 400 micrograms/cubic meter or more, healthy people can develop sore throats and dry eyes. People with previous respiratory health conditions are advised to remain indoors to avoid further complications.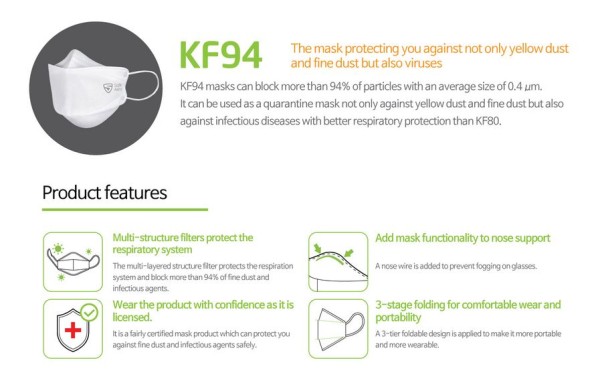 SBC1 has now released its patented SBC1 KF-94 mask into the market to help protect people against this dust as well as other infectious agents like viruses, bacteria, and more. The patented SBC1 KF-94 mask features a powerful multi-layered structure that blocks viruses, bacteria, and fine dust efficiently to the highest standards. It's been shown to effectively filter out more than 94% of 0.4-micron meter particles. This is a medical-level mask and is used in many medical institutions.
The patented SBC1 KF-94 mask is ergonomic and can fit snugly across any face size. A 3-tier foldable design ensures its portability and makes it fit the face comfortably. There is no gap at the side of the face as well as the cheek and the nose wire delivers a tight fit across the nose and under the eye to fully reduce fogging for the people that put on glasses.
The patented SBC1 KF-94 mask is a fairly certified mask product. What's more, it is extremely comfortable and allows maximum breathability. They are also non-toxic, latex-free, dye-free, and made from renewable material.
The patented SBC1 KF-94 mask is currently available here. Those that care about their respiratory health should not hesitate to get one immediately.
About Smart Biz Company One
Smart Biz Company One is a firm with a team of creators and thinkers based in Seoul, Korea. They are veterans in the production and distribution of high-quality and reliable personal protective equipment (PPE) at a reasonable price. Each of their product is duly certified and has undergone thorough lab testing. What sets them apart is that all their products are made from non-toxic and renewable materials that are 100% Guaranteed Authentic.
Media Contact
Company Name: Smart Biz Company One (SBC 1 Co.,Ltd.)
Contact Person: Andy Hong
Email: Send Email
Phone: +82-2-586-8888
Country: South Korea
Website: www.sbc1.co.kr/