Intelligent Facial Recognition Temperature Measurement Access Device by NineTech Benefits Companies
October 15, 2021 – In the post COVID-19 era, it's no longer business as usual. To remain in business, a lot of companies have had to adapt to the new normal and implement mitigation strategies to keep their employees and customers safe. Undoubtedly, one of the most effective prevention strategies is screening customers and employees to detect any unusual high body temperature.
Though handheld infrared forehead thermometers work for a building that receives few people or a business with a few employees and customers, facial recognition body temperature measurements are more appropriate for medium to large companies with a lot of employees, customers, and visitors.
That is where the Facial Recognition Body Temperature Measurement PDA solution by Nine Technology Korea Co., Ltd (NineTech) comes in. The contactless facial recognition temperature measurement device integrates body temperature and access management, realize detection, and early warning. The device can carry out smart identification and contactless temperature measuring in seconds. It also has huge memory capability for image storage and event recording.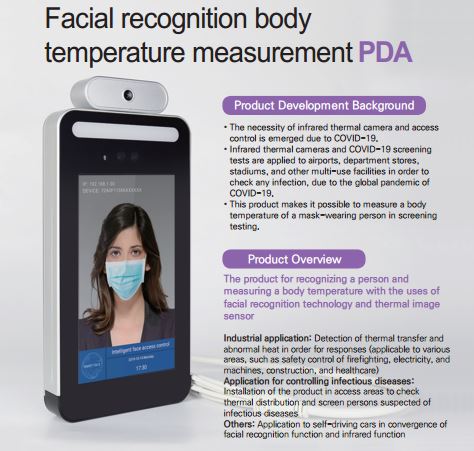 The device measures body temperature through a thermal image sensor, which requires less manpower and prevents cross-infection that may result from queuing up and using handheld temperature measuring devices.
The Facial Recognition Body Temperature Measurement PDA device by NineTech can be installed in the doors of a factory, company, apartment complex, food market, supermarket, airports, public buildings, sports fields, schools, and religious centers, etc for fast facial recognition, temperature measurement, attendance management and more. This can be a great tool in health screening and member management.
Unlike conventional thermometers, this device enables contactless temperature screening. It is designed to allow for self-testing. While a handheld temperature scanner requires a person to operate it, this facial recognition body temperature scanner is fully automated. It utilizes infrared radiation for scanning the body heat by focusing on the forehead.
This ensures fast, accurate, and efficient screening for customers, employees, and visitors in a matter of seconds just by standing in front of the device. Therefore, there is no need to assign an employee to operate the device and risk getting infected when screening someone who already has infectious diseases, such as COVID-19.
For more information about the Facial Recognition and Body Temperature Measurement PDA device from Nine Technology Korea Co., Ltd, visit https://9ntk.com/
Media Contact
Company Name: Nine Technology Korea Co., Ltd
Contact Person: Andy Hong
Email: Send Email
Phone: 02-581-8880
Country: South Korea
Website: www.9ntk.com/