Software professional Mani Manavalan shares his success secrets
Rest not till you reach.
"Maybe it's not meant for me, maybe I am not good enough, maybe I am not destined to do it, said no successful man ever." Thomas Jefferson rightly said – "I am a great believer in luck, and I find the harder I work, the more I have of it." Coming from a small village Sengal, in Tamil Nadu, this young, vivacious, and immensely talented software professional has left indelible 'footprints' across the globe. No one could have imagined the heights Mani has scaled from being born in a lower-middle-class household to now earning his family's yearly income in a day/month. Mani's journey to success has been nothing short of a roller coaster ride and with much effort and hard work has he been able to make a prominent position in the ecosystem. His parents and elder sister have been a constant support throughout his journey and he is forever indebted to them for their love and support.
As the saying goes – "Coming events cast their shadows before", Mani too proved his mettle and his scholarly abilities from a very young age. An A+ student, an avid reader, a school topper, Mani was an exceptional student throughout his educational career, and the scores he got, the awards and accolades he received, made him a youth icon in his district. Getting his educational journey featured in Tamil Nadu's leading newspaper, "Daily Thandi" was yet another feather in his cap.
His passion for learning and constantly upskilling himself did not end with the completion of his undergraduate studies. Soon after he finished college, he grabbed the opportunity to work at a start-up firm, Lucid Software Ltd. where his skills and work profile found a perfect match. Hard work, dedication, grit, and perseverance helped him move up the corporate ladder and become a top-notch IT and API professional in the global landscape.
Whether the opportunities found him at the right time or he seized the moments to make them perfect, his career trajectory depicts a clear path to success. Working at Accenture Services Ltd, gave him a broader perspective, while Larsen and Toubro Infotech opened gates to international waters. His skills got better and his office space expanded extending from Sweden, Netherlands, Germany, UAE, Saudi Arabia, and to the USA. Cognizant Technology Solutions further widened his profile when he found his niche as a Technology Architect and took to API transformation and API economy to deliver significant results for his clients.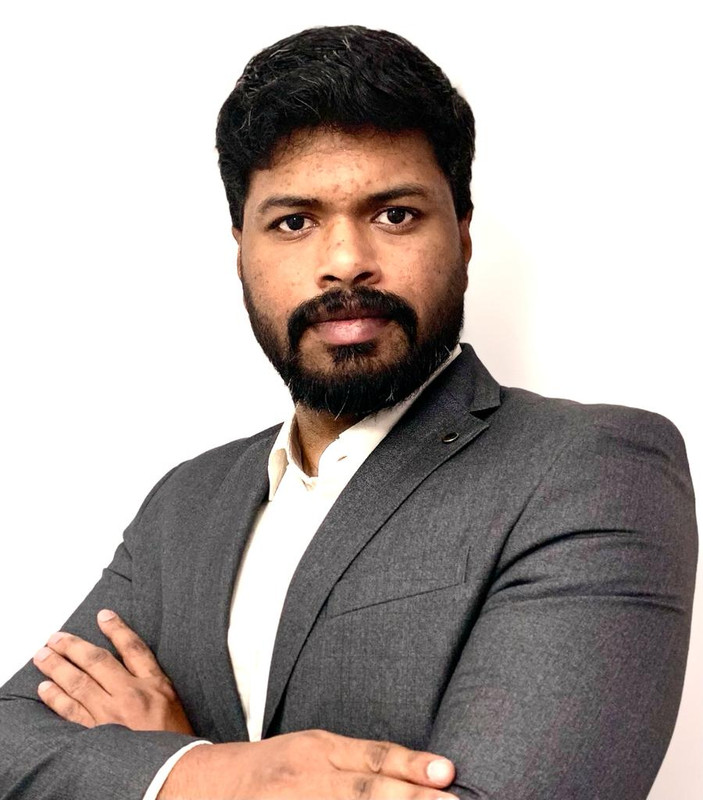 Mani is a capable, competent, and talented individual blessed with intellectual curiosity, exceptional leadership, and time-management skills. He is the perfect blend of integrity, high moral values, and zeal to excel. A great team player, a versatile leader, extraordinary colleague, a focussed and open-minded researcher, and an industrious professional, he has bagged several awards and accolades for his valuable contribution to the firms he has been associated with.
Only the one, who has come out of the bounds of poverty and has witnessed life from a grassroot level, knows how important the basic necessities of life are and how a majority of people are not even able to get access to those. With that in mind, Mani's research is focused on bringing a breakthrough in the field of technology to help find feasible solutions to real-life problems faced by a big section of the world population. In his recently published paper titled, "Intersection of Artificial Intelligence, Machine Learning, and Internet of Things – An Economic Overview", he studied the potential of AI, ML, and IoT coupled will provide a huge possibility for many industries to run their operations and engage with their users in the coming transformation. Furthermore, there is still a lot of room for those who can turn raw data into useful business insights, utilizing effective data analytics. In the paper titled, "Using Fuzzy Equivalence Relations to Model Position Specificity in Sequence Kernels", he studied the sequence kernels based on the occurrence of specified patterns and position-specific variants. He concluded that these kernels provide for an explicit representation, which allows for more efficient computing and feature extraction.
As a Senior Architect at Capgemini America, Mani is passionate about API strategy and transformation and leaves no stone unturned to assist his clients to get the best strategy and technology possible. Mani's success story speaks volumes of the importance of hard work and dedication. You are never a failure until you stop trying. And with every step, you learn something, either about the world or about yourself. And in both cases, you are a winner, since you are better today than you were yesterday. Nothing is impossible if you set your eyes on it.
Media Contact
Contact Person: Mani Manavalan
Email: Send Email
Country: United States
Website: https://www.linkedin.com/in/mani-manavalan/