Sandy Toye from the band Toys in the SanD dedicates her first release 'When you leave' to her husband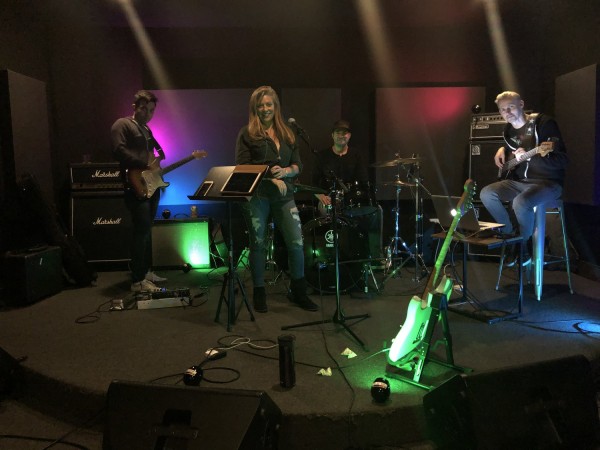 Toys in the SanD is an LA-based band comprised of educated and experienced musicians. They are known for their soulful lyrics and soothing guitar rhythms. The lead singer Sandy Toye writes all the songs from her heart about her life as a wife and mother of three. Her latest song "When you leave' describes the heartache she experiences when her famous television director husband leaves to shoot on location. The other members of the band are Andrew James on Bass, Blake Paulson on Drums, and Chris Vasquez on lead guitar. The combination of Blake's beats, Andrew's soulful bass, Chris's guitar riffs, and Sandy's words creates mesmerizing music.
What makes their music truly stand out is Sandy's unique approach of infusing cosmic principles to her songs that are created in slightly lower frequencies than to a tuning of 432 which might be one reason their songs are soothing to the ears and leave the listener elevated.
Sandy writes songs from a slightly different perspective than most mainstream artists. Being in a committed relationship with three children, Sandy has a positive take on love and relationships and explores other parts of what it means to be human. Toys in the SanD's second single Darkness (released 2/1/2020) was written as a way of helping her daughter cope with anxiety. "If I can help others navigate through fear and pain then I am doing something right."
As a teenager, Sandy used to write a lot of poems and when a friend of hers gifted her a microphone, she started turning those poems into songs. Her musical journey started out as a way of asking the audience at a gala to donate to her daughter's school but it soon became her passion. She went on to learning piano, drums, and guitar while constantly working with singing coaches to improve her voice. "As with most musicians, once they catch the bug, it is near impossible to do anything else", Sandy adds further.
As a born writer, she strives to create lyrics that are meaningful, and relatable to anyone who has experienced heartbreak and the changes that come once someone has settled into relationship, career, and kids.
Listen to the music by Toys in the SanD on their official website toysinthesand.com.
Media Contact
Company Name: Toys in the SanD
Contact Person: Sandy Toye
Email: Send Email
Country: United States
Website: www.sandytoye.com/