Commercial Greenhouse Market worth $68.7 billion by 2028 | Industry Analysis, Trends, and Forecast
Commercial greenhouses provide the opportunity to lengthen growing seasons, lessen the effects of unfavorable weather, and ensure reliable crop harvests. Additionally, as consumer's awareness of the provenance and quality of their food grows, the transparency and traceability provided by greenhouse-grown products find a significant market resonance.
According to a research report "Commercial Greenhouse Market by Type (Glass Greenhouse, Plastic Greenhouse), Crop Type (Fruits, Vegetables, Flowers & Ornamentals, Nursery Crops), Equipment (Hardware, Software & Services) and Region – Global Forecast to 2028″ published by MarketsandMarkets, the commercial greenhouse market is projected to reach USD 68.7 billion by 2028 from an estimated USD 39.6 billion in 2023, at a CAGR of 11.6% during the forecast period in terms of value. The market for commercial greenhouses is being driven by a number of factors that reflect the evolving needs and priorities of individuals, businesses, and industries. Greenhouses allow for the cultivation of a wide range of crops, including those that may not be well-suited to the local climate. This diversification can increase market opportunities for growers. Moreover, Greenhouses provide protection from extreme weather events, allowing farmers to reduce the risks associated with crop losses due to factors like hail, frost, or heavy rainfall.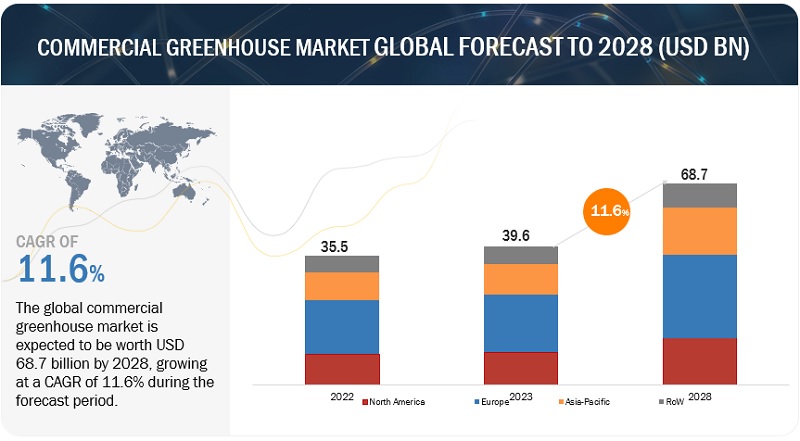 Download PDF Brochure: https://www.marketsandmarkets.com/pdfdownloadNew.asp?id=221045451
By type, the plastic greenhouse segment accounted for the largest share of the commercial greenhouse market.
The plastic greenhouse segment is expected to have significant market value over the forecast period due to the fact that rise in environmental concerns worldwide and their higher yield capacity. The leading players in the market are also emphasizing the development of efficient and high-quality products to tap the huge unaddressed opportunities in developing geographical locations. This can be witnessed by the increased spending on research and development and the growing number of new product approvals. Plastic greenhouse styles can vary from small stand-alone structures to large gutter-connected greenhouses. Free-standing greenhouses are completely independent structures that come in a variety of designs. Thus, the versatility offered by plastic greenhouses is expected to drive the market in the upcoming years.
By equipment, the hardware segment accounted for the largest share of the commercial greenhouse market by value.
The hardware segment holds the largest market share in the commercial greenhouse market due to its pivotal role in creating the foundation for efficient and effective greenhouse operations. Hardware components such as structural frameworks, ventilation systems, heating and cooling systems, lighting, irrigation systems, and automated controls are the essential building blocks that ensure optimal growing conditions. These hardware components directly impact factors like temperature, humidity, lighting intensity, and nutrient delivery, which are critical for successful crop cultivation in controlled environments. As the adoption of commercial greenhouses grows, businesses and growers prioritize investing in robust and technologically advanced hardware solutions that guarantee consistent yields, higher-quality produce, and resource efficiency.
Request Sample Pages: https://www.marketsandmarkets.com/requestsampleNew.asp?id=221045451
By crop type, the vegetable segment accounted to have the largest share of the commercial greenhouse market.
Vegetables are a dietary staple, representing a significant portion of daily nutritional intake for individuals worldwide. Moreover, commercial greenhouses provide an ideal environment for the year-round cultivation of vegetables, allowing growers to meet consistent consumer demand regardless of seasonal limitations. Additionally, consumer preferences are increasingly shifting towards locally sourced and sustainably grown produce, aligning with the capabilities of commercial greenhouses to provide fresh and environmentally conscious options.
The Europe region accounted for the largest market, in terms of value, of the commercial greenhouse market in 2022.
Due to several factors, the market for commercial greenhouses is expanding in Europe. As consumers look for a year-round supply of vegetables and other crops, to satisfy this demand commercial greenhouse would provide a steady supply of fresh vegetables and other crops that aligns with consumer demand for uniform availability. A favorable climate for the adoption of greenhouses is also being fostered by Europe's propensity for cutting-edge agricultural technologies, supportive government policies, and incentives for sustainable farming practices, further boosting the market in Europe.
The key players in this market include Berry Global Group, Inc (US), Signify Holding (Netherlands), Heliospectra AB (Sweden), PLASTIKA KRITIS S.A. (Greece), EVERLIGHT ELECTRONICS CO., LTD (Taiwan), Prospiant (US), RICHEL GROUP (France), Argus Control Systems Limited (Canada), Certhon (Netherlands), LOGIQS.B.V. (Netherlands), Lumigrow, Inc (Canada), Agra Tech, Inc (US), Hort Americas (US), Top Greenhouses (Israel), Stuppy Greenhouse (US).
Get 10% Free Customization on this Report: https://www.marketsandmarkets.com/requestCustomizationNew.asp?id=221045451
Related Reports:
Indoor Farming Technology Market by Growing System (Hydroponics, Aeroponics, Aquaponics, Soil-based, Hybrid), Facility Type, Component, Crop Type (Fruits & Vegetables, Herbs & Microgreens, Flowers & Ornamentals) and Region – Global Forecast to 2028
About MarketsandMarkets™
MarketsandMarkets™ is a blue ocean alternative in growth consulting and program management, leveraging a man-machine offering to drive supernormal growth for progressive organizations in the B2B space. We have the widest lens on emerging technologies, making us proficient in co-creating supernormal growth for clients.
The B2B economy is witnessing the emergence of $25 trillion of new revenue streams that are substituting existing revenue streams in this decade alone. We work with clients on growth programs, helping them monetize this $25 trillion opportunity through our service lines – TAM Expansion, Go-to-Market (GTM) Strategy to Execution, Market Share Gain, Account Enablement, and Thought Leadership Marketing.
Built on the 'GIVE Growth' principle, we work with several Forbes Global 2000 B2B companies – helping them stay relevant in a disruptive ecosystem. Our insights and strategies are molded by our industry experts, cutting-edge AI-powered Market Intelligence Cloud, and years of research. The KnowledgeStore™ (our Market Intelligence Cloud) integrates our research, facilitates an analysis of interconnections through a set of applications, helping clients look at the entire ecosystem and understand the revenue shifts happening in their industry.
Media Contact
Company Name: MarketsandMarkets™ Research Private Ltd.
Contact Person: Mr. Aashish Mehra
Email: Send Email
Phone: 18886006441
Address:630 Dundee Road Suite 430
City: Northbrook
State: IL 60062
Country: United States
Website: https://www.marketsandmarkets.com/Market-Reports/commercial-greenhouse-market-221045451.html