Cholangiocarcinoma Pipeline Drugs Analysis Report, 2023: FDA Approvals, Clinical Trials, Therapies, Mechanism of Action, Route of Administration by DelveInsight | Well Marker Bio, Sirnaomics, Kinnate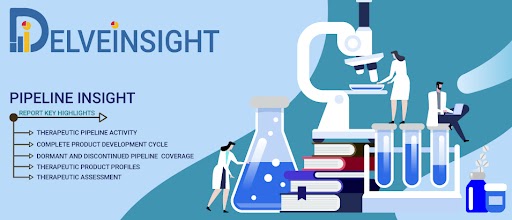 (Las Vegas, Nevada, United States) As per DelveInsight's assessment, globally, Cholangiocarcinoma pipeline constitutes 55+ key companies continuously working towards developing 60+ Cholangiocarcinoma treatment therapies, analysis of Clinical Trials, Therapies, Mechanism of Action, Route of Administration, and Developments analyzes DelveInsight.
The Cholangiocarcinoma Pipeline report embraces in-depth commercial and clinical assessment of the pipeline products from the pre-clinical developmental phase to the marketed phase. The report also covers a detailed description of the drug, including the mechanism of action of the drug, clinical studies, NDA approvals (if any), and product development activities comprising the technology, collaborations, mergers acquisition, funding, designations, and other product-related details.
"Cholangiocarcinoma Pipeline Insight, 2023" report by DelveInsight outlines comprehensive insights into the present clinical development scenario and growth prospects across the Cholangiocarcinoma Market.
Some of the key takeaways from the Cholangiocarcinoma Pipeline Report:
Companies across the globe are diligently working toward developing novel Cholangiocarcinoma treatment therapies with a considerable amount of success over the years.
Cholangiocarcinoma companies working in the treatment market are Well Marker Bio, Sirnaomics, Kinnate Biopharma, Medivir, Eisai Co., Ltd., TransThera Biosciences, Hutchison Medipharma, RedHill Biopharma, Compass Therapeutics, Eisai, Jiangsu Hengrui Medicine, GlaxoSmithKline, Xencor, and others, are developing therapies for the Cholangiocarcinoma treatment
Emerging Cholangiocarcinoma therapies in the different phases of clinical trials are- WM-S1, STP-705, KIN-3248, MIV-818, E7090, TT-00420, HMPL-453, ABC294640, CTX-009, E7090, Camrelizumab, Niraparib, XmAb20717, and others are expected to have a significant impact on the Cholangiocarcinoma market in the coming years.
In May 2023, Richard Kim talked about the research being done on RLY-4008 for the treatment of cholangiocarcinoma patients who have a FGFR2 fusion or rearrangement. FGFR2 inhibitor RLY-4008 is extremely selective and irreversible. It is now being tested in the phase 1/2 REFOCUS trial (NCT04526106). FGFR inhibitor-naive cholangiocarcinoma patients with a FGFR2 fusion or rearrangement (n = 17) exhibited an overall response rate of 88.2%, according to preliminary findings presented at the 2022 ESMO Congress.
In April 2023, Highlights from the NXP800 poster presentation at the 2023 American Association for Cancer Research ("AACR") Annual Meeting in Orlando, Florida, were released by Nuvectis Pharma. It was thought that NXP8000's strong preclinical activity in these CCA PDX models served as reliable predictors of possible therapeutic benefit. The results of today offer hope for people in the future because CCA is a disease that is very tough to treat and has terrible outcomes.
In April 2023, The US Food and medication Administration (FDA) granted Verismo Therapeutics fast-track status for SynKIR-110, an experimental novel medication.Specifically, mesothelin-expressing mesothelioma, ovarian cancer, and cholangiocarcinoma are the three disorders that SynKIR-110 is being tested to treat.
In January 2023, The pivotal Phase 2 FOENIX*-CCA2 futibatinib clinical trial's findings will be published in The New England Journal of Medicine (NEJM) on January 19, 2023, according to a statement from Taiho Oncology, Inc. With an objective response rate of 42%, as determined by independent assessment, and a median response duration of 9.7 months, futibatinib demonstrated clinically significant improvement in patients with FGFR2 fusion/rearrangement-positive iCCA in the FOENIX-CCA2 trial. In patients with previously treated iCCA, futibatinib treatment produced long-lasting responses and higher rates of survival than had previously been observed with chemotherapy.
In October 2022, Invitae and AstraZeneca have partnered to use Ciitizen natural history data from Invitae in a retrospective and prospective study of patients with the uncommon bile duct cancer cholangiocarcinoma. Through this collaboration, the Cholangiocarcinoma Foundation (CCF), a renowned patient advocacy organisation whose goal is to find a cure and enhance the quality of life for patients who have cholangiocarcinoma, will be able to share high-quality, patient-consented data from its patient community.
Cholangiocarcinoma Overview
A cancer called cholangiocarcinoma develops in the cells lining the bile duct, which serves as the liver's bile drainage system. Although it can happen at any age, this ailment, also known as bile duct cancer, is a rare type of cancer that typically affects persons over the age of 50.
Get a Free Sample PDF Report to know more about Cholangiocarcinoma Pipeline Therapeutic Assessment-
https://www.delveinsight.com/report-store/cholangiocarcinoma-cca-pipeline-insight
Emerging Cholangiocarcinoma Drugs Under Different Phases of Clinical Development Include:
WM-S1: Well Marker Bio
STP-705: Sirnaomics
KIN-3248: Kinnate Biopharma
MIV-818: Medivir
E7090: Eisai Co., Ltd.
TT-00420: TransThera Biosciences
HMPL-453: Hutchison Medipharma Limited
ABC294640: RedHill Biopharma Limited
CTX-009: Compass Therapeutics
Camrelizumab: Jiangsu Hengrui Medicine
Niraparib: GlaxoSmithKline
XmAb20717: Xencor
Pembrolizumab: Merck Sharp & dohme
TT-00420: TransThera Science
Cholangiocarcinoma Route of Administration
Cholangiocarcinoma pipeline report provides the therapeutic assessment of the pipeline drugs by the Route of Administration. Products have been categorized under various ROAs, such as
Oral
Parenteral
Intravenous
Subcutaneous
Topical
Cholangiocarcinoma Molecule Type
Cholangiocarcinoma Products have been categorized under various Molecule types, such as
Monoclonal Antibody
Peptides
Polymer
Small molecule
Gene therapy
Cholangiocarcinoma Pipeline Therapeutics Assessment
Cholangiocarcinoma Assessment by Product Type
Cholangiocarcinoma By Stage and Product Type
Cholangiocarcinoma Assessment by Route of Administration
Cholangiocarcinoma By Stage and Route of Administration
Cholangiocarcinoma Assessment by Molecule Type
Cholangiocarcinoma by Stage and Molecule Type
DelveInsight's Cholangiocarcinoma Report covers around 60+ products under different phases of clinical development like
Late-stage products (Phase III)
Mid-stage products (Phase II)
Early-stage product (Phase I)
Pre-clinical and Discovery stage candidates
Discontinued & Inactive candidates
Route of Administration
Further Cholangiocarcinoma product details are provided in the report. Download the Cholangiocarcinoma pipeline report to learn more about the emerging Cholangiocarcinoma therapies
Some of the key companies in the Cholangiocarcinoma Therapeutics Market include:
Key companies developing therapies for Cholangiocarcinoma are – Merck KGaA, Eisai Inc., Janssen Research & Development, LLC, 3D Medicines, Basilea Pharmaceutica, Hutchison Medipharma Limited, Jiangsu HengRui Medicine, TransThera Sciences, RedHill Biopharma, Eli Lilly and Company, Elevation oncology, Senhwa Biosciences, InnoCare Pharma, Genoscience Pharma, Intensity therapeutics, Elucida Oncology, GlaxoSmithKline, Verismo Therapeutics, Sirnaomics, Toray Industries, Inc, Kinnate Biopharma, Boehringer Ingelheim, Wellmarker Bio, Arbele Limited, NGM Biopharmaceuticals, Inc., Elicio Therapeutics, Xencor, Inc., Celon Pharma SA, and others.
Cholangiocarcinoma Pipeline Analysis:
The Cholangiocarcinoma pipeline report provides insights into
The report provides detailed insights about companies that are developing therapies for the treatment of Cholangiocarcinoma with aggregate therapies developed by each company for the same.
It accesses the Different therapeutic candidates segmented into early-stage, mid-stage, and late-stage of development for Cholangiocarcinoma Treatment.
Cholangiocarcinoma key companies are involved in targeted therapeutics development with respective active and inactive (dormant or discontinued) projects.
Cholangiocarcinoma Drugs under development based on the stage of development, route of administration, target receptor, monotherapy or combination therapy, a different mechanism of action, and molecular type.
Detailed analysis of collaborations (company-company collaborations and company-academia collaborations), licensing agreement and financing details for future advancement of the Cholangiocarcinoma market.
The report is built using data and information traced from the researcher's proprietary databases, company/university websites, clinical trial registries, conferences, SEC filings, investor presentations, and featured press releases from company/university websites and industry-specific third-party sources, etc.
Download Sample PDF Report to know more about Cholangiocarcinoma drugs and therapies
Cholangiocarcinoma Pipeline Market Drivers
Increasing Incidence of Cholangiocarcinoma, increasing of R&D Activities, increasing Awareness are some of the important factors that are fueling the Cholangiocarcinoma Market.
Cholangiocarcinoma Pipeline Market Barriers
However, high cost of drugs, high Incidence of adverse events and other factors are creating obstacles in the Cholangiocarcinoma Market growth.
Scope of Cholangiocarcinoma Pipeline Drug Insight
Coverage: Global
Key Cholangiocarcinoma Companies: Well Marker Bio, Sirnaomics, Kinnate Biopharma, Medivir, Eisai Co., Ltd., TransThera Biosciences, Hutchison Medipharma, RedHill Biopharma, Compass Therapeutics, Eisai, Jiangsu Hengrui Medicine, GlaxoSmithKline, Xencor, and others
Key Cholangiocarcinoma Therapies: WM-S1, STP-705, KIN-3248, MIV-818, E7090, TT-00420, HMPL-453, ABC294640, CTX-009, E7090, Camrelizumab, Niraparib, XmAb20717, and others
Cholangiocarcinoma Therapeutic Assessment: Cholangiocarcinoma current marketed and Cholangiocarcinoma emerging therapies
Cholangiocarcinoma Market Dynamics: Cholangiocarcinoma market drivers and Cholangiocarcinoma market barriers
Request for Sample PDF Report for Cholangiocarcinoma Pipeline Assessment and clinical trials
Table of Contents
1. Cholangiocarcinoma Report Introduction
2. Cholangiocarcinoma Executive Summary
3. Cholangiocarcinoma Overview
4. Cholangiocarcinoma- Analytical Perspective In-depth Commercial Assessment
5. Cholangiocarcinoma Pipeline Therapeutics
6. Cholangiocarcinoma Late Stage Products (Phase II/III)
7. Cholangiocarcinoma Mid Stage Products (Phase II)
8. Cholangiocarcinoma Early Stage Products (Phase I)
9. Cholangiocarcinoma Preclinical Stage Products
10. Cholangiocarcinoma Therapeutics Assessment
11. Cholangiocarcinoma Inactive Products
12. Company-University Collaborations (Licensing/Partnering) Analysis
13. Cholangiocarcinoma Key Companies
14. Cholangiocarcinoma Key Products
15. Cholangiocarcinoma Unmet Needs
16 . Cholangiocarcinoma Market Drivers and Barriers
17. Cholangiocarcinoma Future Perspectives and Conclusion
18. Cholangiocarcinoma Analyst Views
19. Appendix
20. About DelveInsight
About DelveInsight
DelveInsight is a leading Business Consultant and Market Research firm focused exclusively on life sciences. It supports Pharma companies by providing comprehensive end-to-end solutions to improve their performance. It also offers Healthcare Consulting Services, which benefits in market analysis to accelerate business growth and overcome challenges with a practical approach.
Media Contact
Company Name: DelveInsight Business Research
Contact Person: Gaurav Bora
Email: Send Email
Phone: 8774225362
Address:27 Drydock Ave S. Jones Blvd #2432
City: Boston
State: MA
Country: United States
Website: https://www.delveinsight.com/consulting/asset-prioritizaton-services