Magic Interiors Orlando Has Launched a Wide Range of Vacation Home and Short Term Rental Theming Services
Extraordinary Magic Interior Services in Orlando include interior design, custom furniture creation, muraling, 3D printing, 3D foam sculpting, audiovisual special effects, custom painting, set design, and more.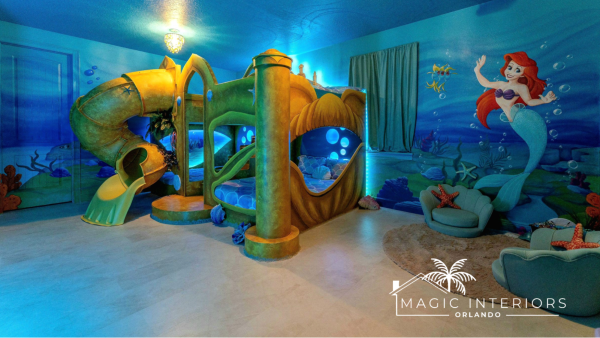 Magic Interiors Orlando, the distinguished vacation home and short term rental theming company, is taking interior design to new heights. With a comprehensive suite of services ranging from interior design, custom furniture creation, murals, 3D printing, 3D foam sculpting, audiovisual special effects, set design and more, Magic Interiors Orlando is on a mission to transform ordinary spaces into one-of-a-kind luxury experiences that won't be forgotten.
Founded with a visionary aspiration, Magic Interiors Orlando has become the vanguard of themed interior design, crafting fully immersive and captivating spaces that transport guests to a world they've only dreamed of. Since its inception, the company has captivated the industry with its unique approach and meticulous attention to detail, merging storytelling and innovation into every creation.
"At Magic Interiors Orlando, we're not just designing spaces; we're crafting experiences that transport guests to new worlds," says Erica DiNicola, Co-Owner and Senior Designer. "Our team's collaboration and dedication enable us to turn imagination into reality by creating enchanting spaces that guests will never forget."
The team at Magic Interiors Orlando combines their boundless creativity with decades of expertise to deliver thematic wonders that exceed even the wildest dreams. The team works amazingly to design vacation homes and intricate custom-built furniture pieces that echo each theme's essence, breathing life into plain walls with awe-inspiring murals. Every element of their designs weaves a story for guests to step into.
Investing in interior design has proven to be a game-changer for vacation rental owners. According to industry data, incorporating themed vacation rentals into the mix can lead to 3X higher occupancy rates. With the infusion of creative-themed interior design, gross revenue can surge by more than 20%. "Hiring a team of highly-skilled professionals to handle theming and interior design is essential in creating a top-performing property and seeing the highest returns on your investment," emphasises Erica DiNicola.
As the premier vacation home and short term rental theming company in Central Florida, Magic Interiors Orlando's journey is far from over. The company is poised to set new industry benchmarks with its dedication to innovative designs, commitment to quality, and a team that thrives on turning visions into tangible realities.
For those ready to embark on a journey of thematic wonder and elevate their rental property experience, booking a consultation with Magic Interiors Orlando is the first step.
Discover the extraordinary possibilities by visiting MagicInteriorsOrlando.com, reaching out to Erica DiNicola at [email protected], or call or text 407-743-8511.
About Magic Interiors Orlando:
Magic Interiors Orlando is a pioneering vacation home and short term rental theming company based in Orlando, Florida. With an unwavering commitment to crafting magical experiences, their team of industry experts transforms spaces into inspiring experiences through innovative and immersive design that is a masterpiece.
Media Contact
Company Name: Magic Interiors Orlando
Contact Person: Erica DiNicola
Email: Send Email
Phone: 407-743-8511
City: Orlando
State: Florida
Country: United States
Website: MagicInteriorsOrlando.com