$1.6 Billion Valuation: Unveiling the Latest Insights into the IVD Quality Control Market by MarketsandMarkets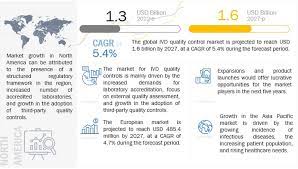 Browse 254 market data Tables and 54 Figures spread through 331 Pages and in-depth TOC on "IVD Quality Control Market by Source (Plasma, Whole Blood, Urine), Technology (Immunoassay, Hematology, Microbiology, Coagulation), Manufacturer (Third party, OEM), End Users (Hospitals, Lab, Research) – Global Forecast to 2027
IVD Quality Control Market in terms of revenue was estimated to be worth $1.3 billion in 2022 and is poised to reach $1.6 Billion by 2027, growing at a CAGR of 5.4% from 2022 to 2027 according to a new report by MarketsandMarkets™
The global IVD quality control market is projected to reach USD 1.6 billion by 2027 from USD 1.3 billion in 2022, at a CAGR of 5.4% during the forecast period. The IVD quality control market is mainly driven by the increasing demand for laboratory accreditations and accredited laboratories.
The In Vitro Diagnostics (IVD) Quality Control Market refers to the market segment that deals with products and solutions used to assess the accuracy, precision, and overall quality of in vitro diagnostic tests. In vitro diagnostics are medical tests that are performed using samples of bodily fluids or tissues taken from a patient's body. These tests provide essential information to diagnose diseases, monitor health conditions, and guide treatment decisions.
To know about the assumptions considered for the study download the pdf brochure @ https://www.marketsandmarkets.com/pdfdownloadNew.asp?id=198032582
Quality control in the IVD field is crucial to ensure the reliability and accuracy of diagnostic results. IVD quality control products are used to monitor the performance of diagnostic assays, instruments, and reagents. These products help detect any variations or deviations from the expected results, ensuring that the diagnostic tests provide reliable and consistent information to healthcare professionals.
Key components of the IVD Quality Control Market include:
Quality Control Materials: These are well-characterized samples with known properties that are used to assess the performance of diagnostic tests.
Quality Control Instruments: These are devices used to measure and monitor the performance of diagnostic instruments and assays.
Data Management Solutions: Software and systems that manage and analyze the data generated from quality control tests.
Regulatory Compliance: IVD quality control products are subject to regulatory standards and guidelines to ensure patient safety and accurate diagnosis.
Access Full Report @ https://www.marketsandmarkets.com/Market-Reports/in-vitro-diagnostics-quality-controls-market-198032582.html
Some of the key players in the market include Bio-Rad Laboratories, Inc. (US), Randox Laboratories Ltd. (UK), Thermo Fisher Scientific, Inc. (US), LGC Limited (UK), and Abbott Laboratories (US). Other prominent payers in the market include Roche Diagnostics (Switzerland), Siemens Healthineers (Germany), Danaher Corporation (US), Fortress Diagnostics (UK), SERO AS (US), Sysmex Corporation (Japan), Ortho-Clinical Diagnostics (US), Helena Laboratories Corporation (US), Quidel Corporation (US), Sun Diagnostics, LLC (US), Seegene Inc. (South Korea), ZeptoMetrix Corporation (US), Qnostics (UK), Bio-Techne Corporation (US), Microbiologics (US), Microbix Biosystems (Canada), Streck, Inc. (US), Alpha-Tec Systems (US), Maine Molecular Quality Controls, Inc. (US), and Grifols, S.A. (Spain).
Bio-Rad Laboratories, Inc.
Bio-Rad Laboratories, Inc. holds the leading position in the IVD quality control market. The company provides innovative quality control products and services. It also offers a range of third-party quality controls, data management solutions, and external quality assurance services for hospital laboratories, reference laboratories, transfusion laboratories, and physician office laboratories.
Thermo Fisher Scientific, Inc
Thermo Fisher Scientific Inc. is ranked second in the world for IVD quality control. The company is a top supplier of IVD quality control goods and services. Clinical chemistry, molecular control, microbiology, serology, serum toxicity testing, specimen validity testing, and therapeutic medication monitoring are among the wide range of quality controls that the company offers.
Recent Developments:
In November 2022, Bio Rad Laboratories, Inc. made an agreement with Abbott Laboratories (US), to expand their portfolio of independent quality controls (QC) products, including Inteliq and liquichek compact vials, for the Abbott alinity ci-series integrated clinical chemistry and immunoassay testing instruments
In October 2022, Thermo Fisher Scientific, Inc. (US) acquired The Binding Site Group (UK). The acquisition will enhance the specialty diagnostic segment of Thermo Fisher Scientific.
Get 10% Free Customization on this Report: https://www.marketsandmarkets.com/requestCustomizationNew.asp?id=198032582
Media Contact
Company Name: MarketsandMarkets™ Research Private Ltd.
Contact Person: Mr. Aashish Mehra
Email: Send Email
Phone: 18886006441
Address:630 Dundee Road Suite 430
City: Northbrook
State: IL 60062
Country: United States
Website: https://www.marketsandmarkets.com/Market-Reports/in-vitro-diagnostics-quality-controls-market-198032582.html