Autoinjectors Market worth $1.7 billion: Enhancing Patient Convenience and Safety in Self-Administration of Medications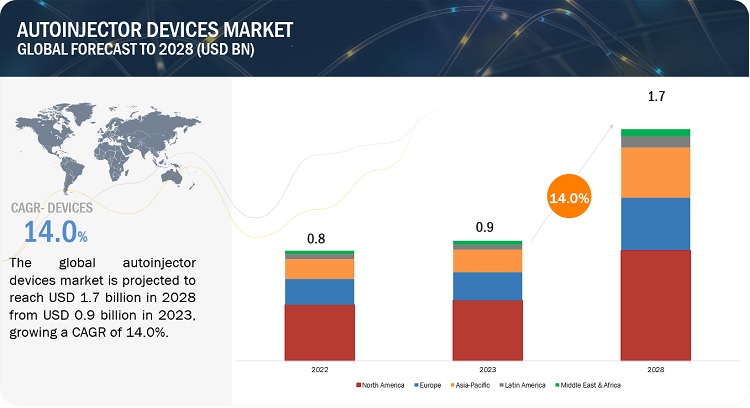 In May 2023, SHL Medical and MoonLake Immunotherapeutics collaborated to develop the sonelokimab autoinjector. SHL Medical's Molly autoinjector technology will be utilized for the clinical and potential commercial supply of MoonLake's Nanobody sonelokimab.
Autoinjectors Market in terms of revenue was estimated to be worth $0.9 billion in 2023 and is poised to reach $1.7 billion by 2028, growing at a CAGR of 14.0% from 2023 to 2028 according to a new report by MarketsandMarkets™.
The global autoinjectors market continues to experience remarkable growth, driven by the increasing demand for user-friendly and efficient drug delivery solutions. Autoinjectors have emerged as a vital tool in healthcare, enabling patients to self-administer a wide range of medications with ease and accuracy. The market's expansion is attributed to advancements in technology, rising prevalence of chronic diseases, and a growing emphasis on patient-centric care.
Request Sample Pages: https://www.marketsandmarkets.com/requestsampleNew.asp?id=173991724
Autoinjector devices market is projected to reach USD 1.7 billion in 2028 from USD 0.9 billion in 2023, growing at a CAGR of 14.0%. Whereas, the autoinjector finished formulations market is projected to reach USD 136.5 billion in 2028 from USD 59.6 billion in 2023, growing a CAGR of 18.0%. The key factors driving the growth of the global autoinjectors market are the growing availability of generic versions of autoinjectors, favorable government reimbursement scenario among others.
Key Market Trends:
Rise in Chronic Diseases: The prevalence of chronic conditions such as diabetes, multiple sclerosis, rheumatoid arthritis, and anaphylaxis has led to a surge in the adoption of autoinjectors.
Patient Empowerment: Autoinjectors empower patients to take charge of their healthcare by eliminating the need for frequent visits to medical facilities for injections.
Technological Innovations: The autoinjectors market continues to witness innovative technological developments, such as electronic autoinjectors with features like dose tracking, connectivity to mobile apps, and real-time monitoring.
Biologics and Biosimilars: The growing use of biologic drugs and biosimilars, which often require precise dosing, has bolstered the demand for autoinjectors.
Benefits of Autoinjectors:
Accuracy and Consistency: Autoinjectors offer precise and consistent dosage delivery, minimizing the potential for dosing errors and ensuring effective treatment outcomes.
Ease of Use: Designed for user-friendly operation, autoinjectors are intuitive and require minimal training, making them suitable for patients of various age groups.
Reduced Needle Phobia: The compact design and automated injection process of autoinjectors can help alleviate needle-related anxiety and phobia, promoting greater treatment compliance.
Customization: Manufacturers are focusing on developing customizable autoinjectors to cater to patients' specific needs, such as adjustable injection speed and depth.
Download an Illustrative overview: https://www.marketsandmarkets.com/pdfdownloadNew.asp?id=173991724
Market Outlook:
The global autoinjectors market is poised for continued growth as healthcare systems worldwide prioritize patient-centered care and the adoption of advanced drug delivery solutions. Market players are investing in research and development to introduce innovative autoinjector models with enhanced features, safety mechanisms, and connectivity options.
Key Market Players
Prominent players in the market are Becton, Dickinson and Company (BD) (US), Ypsomed Holding AG (Switzerland), SHL Medical (Switzerland), West Pharmaceutical Services, Inc. (US), Recipharm AB (Sweden), Haselmeier GmbH (Germany), Owen Mumford Ltd. (UK), Gerreshiemer AG (Germany), Philip-Medisize, LLC (US), Oval Medical Technologies Ltd. (UK), Solteam Incorporation Co., Ltd. (China), Elcam Drug Delivery Devices (E3D) (Israel), Antares Pharma, Inc. (US), Jabil, Inc. (US), and the some of the major market players for finished formulations covered in this chapter include AbbVie Inc. (US), Amgen Inc. (US), Eli Lilly and Company (US), Novartis AG (Switzerland), Merck KGaA (Germany), Viatris Inc. (US), and Biogen (US).
BD is the leading players in the global autoinjector devices market. The company offers self-injection device systems. BD is focused on strategies such as innovation, expansions, and partnerships to enhance its presence in the autoinjectors market.
Europe: The second-largest region in the autoinjectors market.
The European autoinjectors market is the second-largest autoinjectors market globally, mainly due to factors such as presence of a large geriatric population in the region and the improving reimbursement and regulatory scenario. The presence of large geriatric population in the region is expected to increase the prevalence of chronic diseases leading consequently leading to growing adoption of autoinjectors for treatment of these disease.
Get 10% Free Customization on this Report: https://www.marketsandmarkets.com/requestCustomizationNew.asp?id=173991724
Media Contact
Company Name: MarketsandMarkets™ Research Private Ltd.
Contact Person: Mr. Aashish Mehra
Email: Send Email
Phone: 18886006441
Address:630 Dundee Road Suite 430
City: Northbrook
State: IL 60062
Country: United States
Website: https://www.marketsandmarkets.com/Market-Reports/autoinjector-market-173991724.html