Evania Aria Luxardo: The World's First Latina AI-Generated Virtual Influencer Launched By The Product Bar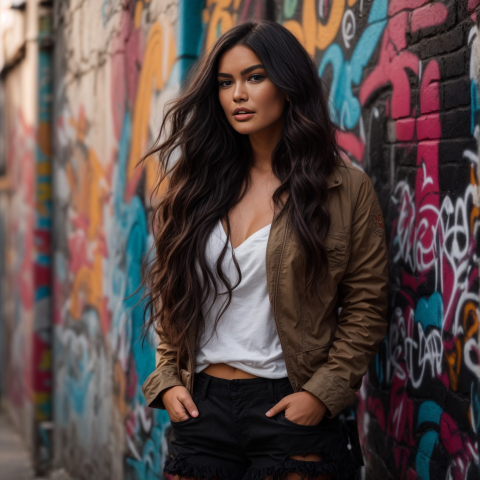 The Product Bar has announced the launch of Evania Aria Luxardo, the first-ever Latina AI-generated virtual influencer model that has been launched. This historic event has shaken up the world of technology and fashion as Evania Aria Luxardo has created a unique space for itself in the fast-growing AI landscape. Evania Luxardo represents the cutting edge of innovation, crafted with the latest AI algorithm to bring a new dimension to the influencer landscape.
Speaking on the launch occasion, the spokesperson of The Product Bar said, "The Product Bar is incredibly proud to introduce Evania Aria Luxardo to the world. We believe she represents not only the future of virtual influencers but also the future of diversity and inclusion in the digital realm. Evania Luxardo will break boundaries, inspire, and ignite conversations about the limitless possibilities of AI technology."
Some of the Key features of Evania Aria Luxardo include:
1. Unparalleled Realism: Evania Luxardo boasts a level of realism that is truly astonishing. Her facial expressions, body movements, and fashion choices are generated with meticulous attention to detail, making her virtually indistinguishable from real-life models.
2. Cultural Celebration: Evania Aria Luxardo takes pride in her Latina heritage and uses her platform to celebrate it. She represents a diverse and inclusive vision of beauty, fostering cultural pride and inspiring countless individuals worldwide.
3. Fashion Forward: Evania Luxardo sets the latest fashion trends as a virtual influencer. Top designers curate her wardrobe, and she collaborates with leading fashion brands to showcase their collections innovatively.
4. Positive Impact: Beyond her stunning appearance, Evania Aria Luxardo is designed to be a role model for the digital age. She promotes positive values, body positivity, and self-confidence, sending a powerful message of empowerment to her ever-growing fanbase.
There is no doubt that the creation of Evania Aria Luxardo marks a significant milestone in the fusion of technology, art, and diversity. This virtual influencer, powered by state-of-the-art artificial intelligence, embodies not only the future of fashion but also celebrates the rich heritage and culture of the Latina community.
Follow Evania Aria Luxardo on her journey on Instagram https://Instagram.com/Evanialux and get ready to witness the fusion of art, culture, and technology like never before.
Join the conversation by using the hashtag #EvaniaLuxAI.
For media inquiries, interviews, or additional information, please contact [email protected]
About The Product Bar:
The Product Bar is at the forefront of AI innovation and is dedicated to pushing the boundaries of what is possible in the world of virtual influencers and digital experiences. With a commitment to diversity, creativity, and cutting-edge technology, The Product Bar is shaping the future of digital culture.
Media Contact
Company Name: The Product Bar
Contact Person: Enrique
Email: Send Email
City: Miami
State: Florida
Country: United States
Website: www.theproductbar.com