"Happy Money Happy Life" by Jason Vitug Named Finalist for the 14th Annual Plutus Award
Celebrating Excellence in Financial Media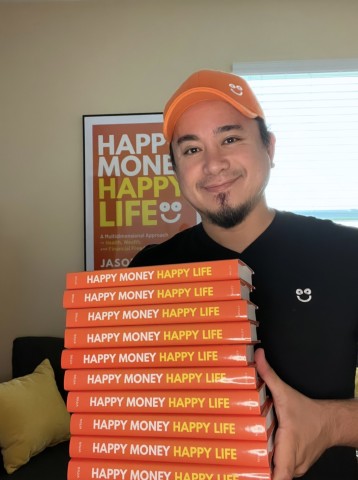 Elizabeth, NJ – In a groundbreaking moment for the world of personal finance literature, Jason Vitug's transformative book, "Happy Money Happy Life," has been selected as a finalist for the prestigious 14th Annual Plutus Award in the category of Best New Personal Finance Book. This remarkable achievement marks a testament to the author's unwavering dedication to empowering readers with the knowledge and insights needed to craft a life filled with abundance, fulfillment, and genuine happiness.
With its poetry and fresh perspective on wealth, life, and prosperity, "Happy Money Happy Life" is more than just a personal finance guide; it's a road map to unlocking the secrets of a truly enriched existence. Vitug, a luminary in the financial wellness realm, shares his years of wisdom in a manner that resonates deeply with readers seeking a holistic approach to financial well-being.
The Plutus Awards, widely regarded as the pinnacle of recognition in the personal finance genre, acknowledges the most innovative and influential contributions to the field. Earning a spot as a finalist among such esteemed contenders reaffirms the unique value "Happy Money Happy Life" brings to readers from all walks of life.
"Jason shares his personal journey of struggle, failure, and success," said Dr. Brad Klontz, author and leading expert in financial psychology, "while exploring the science around money, happiness, and why it matters."
In "Happy Money Happy Life," readers embark on a journey that transcends financial metrics, diving deep into the heart of what it truly means to thrive. Vitug's writing navigates the intersections of money, happiness, and wellness, offering practical strategies and actionable insights that empower readers to make choices that align with their values and aspirations.
As the anticipation builds for the 14th Annual Plutus Awards ceremony, where the winner of the Best New Personal Finance Book will be unveiled, "Happy Money Happy Life" stands as a beacon of inspiration, reminding us all that the pursuit of financial well-being is intricately linked to the pursuit of a life well-lived.
For more information about "Happy Money Happy Life" and to explore Jason Vitug's transformative work, please visit jasonvitug.com or contact G. Jessica at [email protected] for interview requests or review copies.
About Jason Vitug:
Jason Vitug is a renowned financial expert, author, and speaker with a passion for educating individuals on the art of achieving financial success and personal fulfillment. A visionary in the personal finance space, Vitug's work transcends traditional money management, focusing on the harmony between financial health and overall well-being.
About the Plutus Awards:
The Plutus Awards celebrate excellence in personal finance literature, media, and education. Now in its 14th year, the Plutus Awards recognize the most innovative and impactful contributions to the world of personal finance, honoring those who empower individuals to make informed decisions for a prosperous future.
Media Contact
Company Name: Jason Vitug
Contact Person: G. Jessica
Email: Send Email
Country: United States
Website: https://jasonvitug.com