Chitosan Market To Reach $28.93 Billion By 2027, Due To Enhanced Applications into Water Treatment, Pharmaceutical, Biomedical, Cosmetics, Food and Beverage Sectors | Grand View Research, Inc.
According to a new report published by Grand View Research, the chitosan industry is highly fragmented in nature owing to the presence of a large number of small-scale players, especially in countries including Japan, China, Thailand, and South Korea.
Chitosan Industry Overview
The global chitosan market size was valued at USD 6.8 billion in 2019 and is projected to reach USD 28.93 billion by 2027, expanding at a revenue-based CAGR of 24.7% during the forecast period. The growing product application in water treatment, pharmaceutical and biomedical, cosmetics, and food and beverage industries are expected to drive the market growth.
Chitosan is an amino polysaccharide polymer commercially produced from the shells of crab, lobster, shrimp, and crayfish. It is made through chemical or enzymatic deacetylation of chitin shells or exoskeletons of insects, crustaceans, and the cell walls of fungi with an alkaline substance such as sodium hydroxide. Each raw material for the product has different chitosan content hence play an important role in commercial manufacturing. Shrimp is considered to be the major source for chitosan since it contains about 25% to 40% chitin, whereas, the crab shell contains approximately 15% to 20%.
Gather more insights about the market drivers, restrains and growth of the Global Chitosan Market
Rising product demand from the cosmetics industry and increasing scope of product application in waste-water treatment is also anticipated to boost the market growth. Moreover, the elimination of stringent regulations that restricted the establishment of new manufacturing units by the Government of Mexico has resulted in the development of new and large-scale pharmaceutical manufacturing facilities in the region.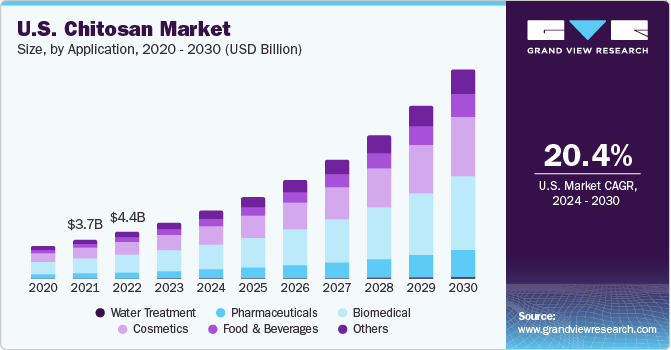 This strategy has played an important role in driving domestic pharma industry growth, which is likely to fuel product demand over the next few years. However, high product costs depending on the quality and purity are expected to hamper the market growth.
One of the key factors steering chitosan demand is the easy availability of its raw material, obtained as a waste product from the fishery industry. Fishing is one of the most important businesses for people in the Asia Pacific. According to the Food and Agriculture Organization of the United Nations, China has emerged as one of the major players in the global shrimp market. During the first half of 2019, the country imported 285,900 tons of shrimp mainly from Ecuador, India, and Saudi Arabia, which was 186% more compared to 100,000 tons imported in 2018.
Chitosan Market Segmentation
Based on the Application Insights the market is segmented into Water Treatment, Pharmaceutical & biomedical, Cosmetics, Food & beverage, Others
Among these water treatments were the largest application segment, owing to its growing demand from industrial, commercial, and municipal waste treatment plants. Its superb ability to remove pesticides, surfactants, phenol, and polychlorinated biphenyls from wastewater find application as flocculating, coagulating, and a chelating agent in their purification.
Another significant application includes use as an antimicrobial agent in food processing and its packaging industries. It acts as a fungicide, offers freshness and health benefits when mixed with dietary supplements. In addition, its ability to enhance immunity, reduce blood sugar, and decrease blood pressure are expected to be key factors driving the demand in the food and beverage industry.
Based on the Regional Insights the market is segmented into North America, Europe, Asia Pacific, Central & South America, Middle East & Africa
In Europe, the growing number of food processing industries has led to the large import of chitosan. The European Parliament regulation (EC) No 1107/2009, approves chitosan hydrochloride as a basic substance used in the dietary supplement additives. In addition, increasing R&D expenditure in the pharmaceutical industry, growing popularity for natural cosmetics products are expected to propel the demand over the forecast period.
Asia Pacific emerged as the largest regional market in 2019. It is also expected to be the fastest-growing region owing to the rapid development of end-use industries in Japan, China, India, and South Korea. Increasing demand for biobased products coupled with supporting government scenario in these counties is expected to drive the regional demand for chitosan.
For instance, according to the Korea Food & Drug Administration, products such as chitooligosaccharides and glucosamine are considered safe for use in dietary supplements. Similarly, in Japan, it is filed on the food additives list given by The Japan Food Chemical Research Foundation.
Market Share Insights
May 2022: Chitosan coagulant in the treatment of alcohol-containing sewage- Ghawar Oil field Saudi Arabia, natural gas treatment plant has problems such as high oil content and low light transmittance in the pretreatment of alcoholic sewage. Yudacentury chitosan was selected as polyaluminum chloride coagulant to treat the alcoholic sewage.
Key Companies Profile:
The major business players in the industry invest in cost-effective and safer production methodologies. Market leaders are also trying to expand their product portfolio by focusing on developing a wide range of chitosan products, based on their purity levels, which can be suitable according to applications of end-use industries.
Some of the prominent players in the chitosan market include:
Kyowa Technos Co., Ltd.
Dainichiseika Color & Chemicals Mfg. Co. Ltd.
KIMICA Corporation
Biophrame Technologies,
Heppe Medical Chitosan GmbH,
Meron Biopolymers,
Qingdao Yunzhou Biochemistry Co.,
Golden-Shell Pharmaceutical Co. Ltd,
FMC Corp.
Order a free sample PDF of the Chitosan Market Intelligence Study, published by Grand View Research.
About Grand View Research
Grand View Research is a full-time market research and consulting company registered in San Francisco, California. The company fully offers market reports, both customized and syndicates, based on intense data analysis. It also offers consulting services to business communities and academic institutions and helps them understand the global and business scenario to a significant extent. The company operates across multitude of domains such as Chemicals, Materials, Food and Beverages, Consumer Goods, Healthcare, and Information Technology to offer consulting services.
Web https://www.grandviewresearch.com/
Media Contact
Company Name: Grand View Research, Inc.
Contact Person: Sherry James, Corporate Sales Specialist – U.S.A.
Email: Send Email
Phone: 1888202951
Address:Grand View Research, Inc. 201 Spear Street 1100 San Francisco, CA 94105, United States
City: San Francisco
State: California
Country: United States
Website: https://www.grandviewresearch.com/industry-analysis/global-chitosan-market